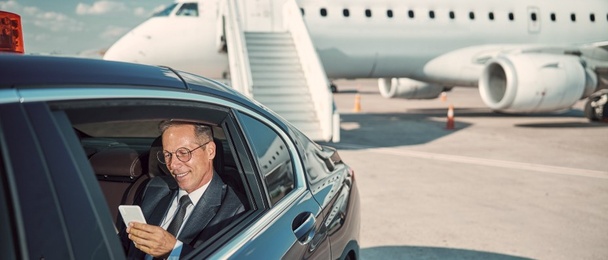 Now you can focus on your goals and tasks to be accomplished. Our luxury car rental service will guarantee you airport transfers from and to the airport at attractive prices. We provide our customers with the opportunity to rent a vehicle with one of our experienced drivers. Your comfort and prestige will be cared of, and your guests will appreciate your attention to every detail.
Airport transfers – time is money
We provide airport transfers based on our fleet of luxury cars, which not only provide you with the opportunity to reach your destination, but also provide all their advantages, such as great sound systems, comfortable seats, air conditioning and many other features.
With our help you will avoid unpleasant situations related to nervous searching for communication connections. As you know, it is complicated to find a parking place at the airport. Therefore, our airport transfer service may interest even those, who have their own car.
Our Premium car rental company prepared an offer of airport transfers having their customer in mind. This is why our offer is so attractive. If you have any questions about the services we provide, we will be more than happy to answer them through our employee. We carry out airport transfers based on a reliable fleet of vehicles and experienced drivers. Therefore, we should be trusted. We invite you to contact us.